To check the status of your license, CME requirements, license expiration, state-to-state license reciprocity, and all other license-specific questions, please contact the Bureau of EMS (BEMS) at 801-273-6666 and not EMT Utah.
EMT Utah is a separate entity from the state agencies and cannot access all license information. Please allow us to assist you with obtaining CME hours for recertification, Psychomotor exams, and EMS courses.
RECERTIFICATION
EMTs are required to renew their certification every two years. Nationally Registered EMTs (NREMTs) can recertify by either taking the cognitive examination or by completing continuing education. As for state licensure, as long as recertification is current within NREMT, the state licensure will be recertified as well, as long as the BEMS account is kept current and application fees are paid. EMTs who are not Nationally Registered should create an NREMT account to submit their recertification (CME/Exam Recert) to NREMT and that will sufficiently update the state certification. You do not need to submit recertification (CME/Exam Recert) to both the state and national agencies, regardless of whether or not you are Nationally Registered.
Continuing Education Recertification (recommended method)
The EMT National Continued Competency Program (NCCP) requires a total of 40 hours of continuing education to recertify. The model requires continuing education in three components: (1) a national component, (2) a local/state component, and (3) an individual component.
The National Component requires EMTs to complete 20 hours of approved continuing education. A maximum of 7 hours of distributive education* may be used to meet the 20 hour requirement. A maximum of 7 hours of distributive education* may be used to meet Utah's 10 hour requirement for the Local/State component. The individual hours are considered flexible content. You may use any CAPCE approved EMS–related education to fulfill these requirements (i.e. ACLS, PALS, PHTLS, AMLS). A maximum of 10 hours of distributive education* may be used to meet the 10 hour requirement.
*Distributive Education is a method of delivering EMS education where the education and student are not able to interact in real time. Examples include online courses, journal article review, and videos.
Courses that cannot be applied towards recertification requirements include duplicate courses, clinical rotations, instructor courses, management/leadership courses, performance of duty, preceptor hours, serving as a skill examiner, and volunteer time with agencies. For example, you may not use an AEMT course as CME hours if you plan to test and certify as an AEMT as a result of that course.
In total, of the 40 CME hours required to recertify, 24 hours can be done as distributive education and 16 hours must be completed with real-time interaction with an instructor. Some EMTs are able to obtain CME hours through their employers or from other educational pursuits. EMT Utah offers CME packages in a variety of options to suit the needs of any EMT looking to recertify by continuing education.
Submitting CME hours to NREMT for Recertification
The 20 hour National Component required by NREMT includes time requirements within a number of EMS topics. When calculating these hours based on the education you've completed, consider the fact that there is a lot of overlap in EMS education. For example, if you sit in a lecture on OB emergencies for two hours, that fulfills the 0.5 hour requirement for OB Emergencies, but the other 1.5 hours of that lecture may still count. If the 2-hour OB lecture also covered hemorrhage control (0.5 hours required) and pediatric transport (0.5 hours required), then you can apply some of the time you earned in that lecture toward those topics.
If you have completed CME hours and are not sure how to submit them to NREMT, check out this video with instructions from the NREMT.
Recertification by Examination
This option enables you to demonstrate continued cognitive competency without documenting continuing education; however you may only make one attempt to pass the exam. To read how to recertify by Examination, read the instructions on NREMT's website.
LATE RENEWAL APPLICATION (NREMT)
If the renewal application was not submitted prior to the March 31 deadline, the EMT may pay a $50 late application fee and submit the application until April 30. However, all continuing education requirement must have been satisfied prior to March 31.
LAPSED CERTIFICATIONS
Lapsed 0-24 Months
If the certification lapsed less than two years, or you are currently state licensed as an Emergency Medical Technician (EMT), you can regain National EMS Certification by completing the cognitive and psychomotor examinations.
To obtain authorization to test, lapsed EMTs must demonstrate proof of education requirements. The following methods are acceptable:
Complete a Traditional State Approved EMT Refresher

State approved continuing education equal to the EMT Refresher

If the EMT was licensed in a NCCP state, completion of the National Component meets the requirement
EMT Utah offers packages for all of the above methods to obtain authorization to test in addition to offering NREMT psychomotor exams.
Lapsed More Than 2 Years
Entry and/or re-entry into the National Registry may be granted to a previously state licensed or Nationally Certified EMT provided you complete:
A state approved refresher course, or the national component of the NCCP program

A state administered practical examination

The Cognitive Examination

Hold current BLS CPR certification
EMT Utah offers packages for all of the above options in addition to offering BLS CPR certification courses.
TRANSFERRING A LICENSE BETWEEN UTAH AND OTHER STATES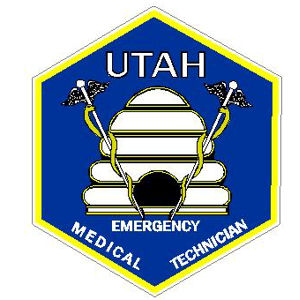 This is called reciprocity and it depends entirely on each state's requirements and that state's relationship with the state of Utah. Whether you are moving to Utah or to another state, start by contacting BEMS at 801-273-6666 and let them know which state you are transferring from/to and they can assist you from there.