Tuition: $249
The Wilderness First Aid (WFA) course was created for those who work or recreate in the wilderness on a short-term basis.  If you take short trips, savor outdoor activities while staying reasonably close to medical resources, work at outdoor camps, or just want a solid introduction to wilderness medicine this is the course for you. The WFA training course focuses on the prevention, assessment, and treatment of an ill or injured person in any environment where definitive care by a physician and/or rapid transport is not readily available.
Students will develop the hands-on skills and practical knowledge necessary for medical decision-making in remote wilderness locations. We focus on teaching students to assess situations and improvise solutions using limited available resources to stabilize the patients until qualified resources arrive.
This 16-hour course can be structured to the specific needs of your group. It can be held at our training facility or we can come to you. Give us a call to further discuss your needs if your group would like to arrange a private course.
Course Prerequisites:
Must be BLS CPR certified by the first day of class (EMT Utah offers this course regularly)
Must be 16 years of age or older
Must be proficient in English (written and oral)
Physical capability to hike, carry, lift, and train in rough terrain and environments outside the classroom
Tuition & Fees: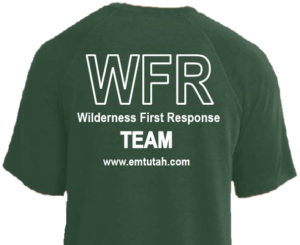 The course costs $249. EMT Utah offers a performance-quality WFR tee (great for the outdoor training sessions!) for $20, available through the GearShop. The WFR shirt is optional and can be purchased during class, as well.
Classroom sessions are held at 1135 South West Temple, Salt Lake City. Practical sessions are held outdoors at sites identified in class.
Click the 'Salt Lake City' Campus box below to view dates and register: