Tuition: $1,750
EMT courses are made up of two components: academic learning and hands-on skills. Completing all academic learning online provides the flexibility to move at your own pace.
EMT Utah's Online EMT program prepares students for the NREMT Psychomotor and cognitive exams. Upon registration, students gain access to a custom-built Premier online course. Course materials include a Jones & Bartlett textbook in an eBook format, interactive lectures, videos, and a variety of other resources.
All online work is overseen by an instructor, who is available for contact and actively involved in the process. Upon completion of the academic portion, students register for and attend a Skills Boot Camp at EMT Utah's Salt Lake City Campus. The Boot Camp runs Monday to Saturday and ends with a practical Psychomotor exam on Sunday. EMT Utah provides lunch and snacks.
Become an EMT at a pace that works for you.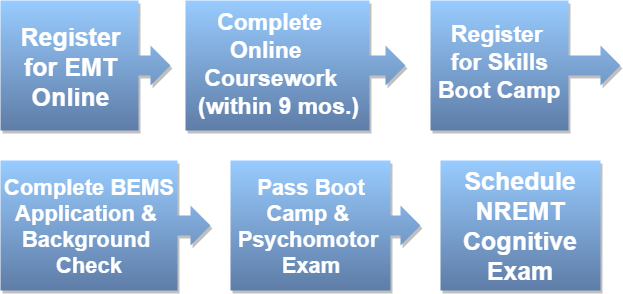 If you are ready to register, click the Online Course box below. Be sure to enter your email address and mailing address accurately. Supplies will be mailed to the address provided at registration.